13ème Fête de la Noix
Festival , Themed market , Garage sale/second-hand market , Sales event , Children , Family , Gastronomy at Saillac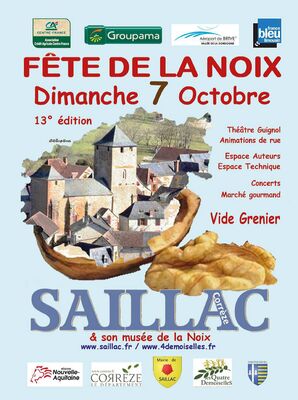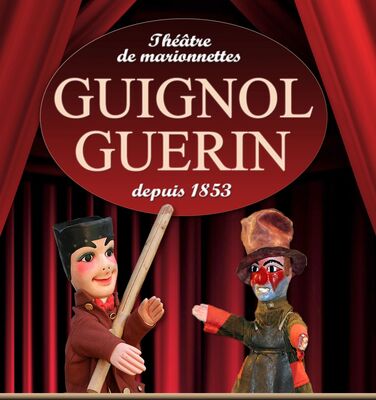 Berceau de la noix « Marbot », le petit village de Saillac de 206 âmes vous accueille dans un cadre de vie faisant bien des envieux. Traversé par des chemins bordés de noyers, Saillac met à l'honneur la Noix, le premier dimanche d'octobre (des années paires).
Cette année, la 13ème Fête de la Noix sera jumelée avec un vide grenier. De nombreuses animations sont prévues pour cette nouvelle édition.

A partir de 7h: 4ème Vide Grenier dans les rues du Village
A Partir de 9h: Ouverture de la Fête de la Noix et accueil au public
11h00: Visite officielle de la Fête et Apéro à la Noix

ANIMATIONS:
Atelier Enfants "Préhistoire" avec le Musée de Néandertal.

14h30-16h30: spectacle de marionnettes Guignol "Guérin"
15h00: à l'église chorale Cantate 19- Ensemble Vocal de haute Corrèze

Atelier thématique sur la Noix avec Régine Rossi Lagorse.
Balade en poney animée par le Ranch de Chadenac de Chauffour
Manège sur la place du village
Maquilleuse avec son matériel

Animations de rue tout au long de la journée:
Groupe de musique traditionnelle de la région "Pintou en Vadrouille"
Déambulation de rue avec l'école de cirque Cucico et le spectacle "M.Dynamo"

17h00 Vente du pain et du Gâteau aux Noix.

Les plus de la journée:
Espace littéraire
Exposition vente de produits artisanaux
Marché Gourmand de producteurs avec possibilité de se restaurer sur place directement.
Espace Bistrot musée de la Noix
Production d'Huile de noix et vente de pain aux noix
espace technique avec démonstration de matériel agricole et de récolte de la noix. Présentation des techniques de production.
Schedules

On

October 7, 2018

from 7:00 to 20:00
Leave a review about 13Ème Fête De La Noix :
Horrible

Bad

Average

Good

Excellent
There is no review about 13Ème Fête De La Noix, be the first to leave one !