4ème édition de la "Fèsta Los Bandas"
Festival , Traditions and folklore , Festive Bandas music at Souillac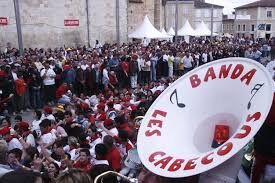 La Banda Les Cabecous
La Banda Les Cabécous vous invite à la "Fèsta los Bandas".

Pour la quatrième année consécutive, la Banda Les Cabécous de Souillac invite des bandas qu'elle a pu croiser au gré de ses propres déambulations ou qu'elle a pu découvrir au fil de ses écoutes.
Les Trous Balourds (31), La Band'Atomic (13), La Pena Masquèra (31), Los Patos (12) et Les Infatigables (40) seront à l'honneur.
Les 6 bandas auront à cœur d'animer les rues et les restaurants de Souillac pour se retrouver en tout début de soirée Place Pierre Betz.

Aucune compétition, juste le plaisir de jouer ensemble, de partager de la bonne humeur autour d'un site historique., pour vivre des émotions en famille ou entre amis.
Pour que le plaisir soit continu et que chacun et chacune soit "rassasié" une petite restauration sur place est prévue, un repas basque à 10 euros - ​ Pâté basque au piment d'Espelette, Poulet basquaise et son riz à la catalane, Gâteau basque - est organisé le samedi soir (résa au 06 87 07 55 25), tournoi gratuit de beach rugby le samedi et de beach volley
Le dimanche (inscription sur place le jour même à 9h30). Nous vous attendons donc nombreux, en rouge et blanc, festifs et de bonne humeur, du vendredi 19h au dimanche 17h. (possibilité de planter les tentes à proximité du site)"

Pour cette quatrième édition, nous vous attendons nombreux et en rouge et blanc pour vivre un weekend festif en compagnie de 7 bandas venues d'ici ou là… sans oublier le « fameux » tournoi de beach rugby.
3 jours, 3 ambiances
Le vendredi soir fèsta entre amis ou en famille avec le « Cabécou Show », le samedi en journée place aux sportifs, aux déambulations et à la flânerie, le samedi soir repas basque - bodéga et
pour finir en beauté le dimanche midi « Fèsta'péro » et bœuf musical.
En famille ou entre amis, jeunes et moins jeunes, ce rendez-vous est à réserver sur vos agendas.
Côté pratique
Entrée libre - Petite restauration sur place - En cas d'intempéries, rendez-vous au Palais des Congrès.
Réservations obligatoires pour le repas (10€) du samedi soir à partir du 1er juillet au 06 87 07 55 25 - pour le tournoi de beach rugby du samedi à partir du 1er juillet au 06 87 70
64 01.
Opération "Sam, Capitaine de Soirée" : Possibilité de dormir à proximité du site -prévoir les tentes -
Les Invités :
Les Cabécous (46) - La Dédé's Banda (46) - Les Décaps'Hurleurs (64) - La Band'Atominc (13) - La Banda Doré (42) - In Vino Veritas (24) - Les Infatigables (40)
From

August 3, 2018




until

August 5, 2018
Leave a review about 4Ème Édition De La "fèsta Los Bandas" :
Horrible

Bad

Average

Good

Excellent
There is no review about 4Ème Édition De La "fèsta Los Bandas", be the first to leave one !