Concert étonnant avec un duo marimba - Festival de la Vézère
Concert , Cultural , Classical music at Aubazines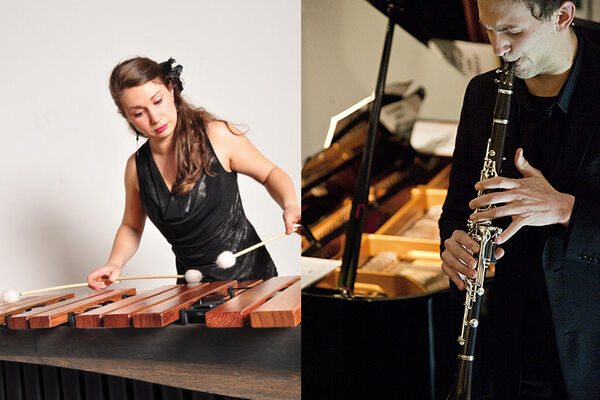 Concert Festival de la Vézère
A l'occasion du 38e Festival de la Vézère, l'abbatiale d'Aubazine accueillera un concert étonnant avec un duo marimba (percussions), Vassilena Serafimova et clarinette, Rémi Delangle

Au programme : Piazzolla, De Falla, Bartók, medley de danses traditionnelles bulgares...
Percussionniste formée au CNSMDP et The Juilliard-School à
New-York, Vassilena Serafimova donne dès son plus jeune âge
de nombreux concerts en soliste ou au sein de l'ensemble de
percussion Accent.
Elle remporte de nombreux prix internationaux ; en 2015, en
duo avec le pianiste de jazz Thomas Enhco, elle fait entendre
le marimba pour la première fois aux Victoires de la musique
classique.
Vassilena Serafimova se produit en tant que soliste et chambriste
dans de nombreux festivals : Les Flâneries Musicales de Reims,
Classique au Vert, Middelheim Jazz Festival, REpercusionES,...
Musicien aux multiples facettes, animé par la découverte, la
diversité et la qualité musicale, Rémi Delangle intègre la classe
de Pascal Moraguès et Jean-François Verdier au CNSMDP où il
obtient son Master de clarinette avec mention très bien.
En 2007, il rejoint l'Orchestre de la Garde Républicaine tout
en poursuivant en parallèle sa carrière en tant qu'invité au sein
d'orchestres prestigieux comme l'Orchestre de Paris, le Malher
Chamber Orchestra,...
Avide de nouvelles expériences et désireux de partager son
goût pour la musique avec le plus grand nombre, il se passionne,
en parallèle de sa formation classique, pour les musiques
improvisées et de transmission orale originaires des Balkans, ainsi
que pour la musique Klezmer.
Schedules

On

July 31, 2018

at 20:30
Leave a review about Concert Étonnant Avec Un Duo Marimba - Festival De La Vézère :
Horrible

Bad

Average

Good

Excellent
There is no review about Concert Étonnant Avec Un Duo Marimba - Festival De La Vézère, be the first to leave one !