Exposition de Luminescence Vitraux
Exhibition , Cultural , Handicrafts at Carennac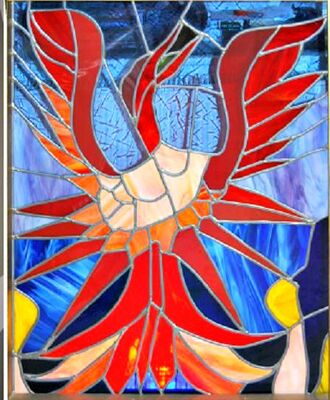 Originaire du Nord de la France, et artiste dans l'âme depuis son plus jeune âge puisqu'elle a « toujours su dessiner », Dominique HOULLIER a choisi il y a quelques années, de s'installer dans le village d'artistes de Cornac.

Elle avait alors déjà découvert l'enluminure et s'était spécialisée dans la peinture sur parchemin et le collage à la feuille d'or. C'est le vitrail qu'elle a finalement choisi et auquel elle s'est longuement formée. Elle a d'abord appris à reproduire ce que faisaient les anciens avant de se lancer dans des œuvres plus personnelles.

Aujourd'hui, elle découpe, assemble et soude l'étain pour créer des vitraux classiques ou contemporains, toujours originaux.
Dans son atelier au « Moulin de Barreyrac », elle dispose de tout le matériel nécessaire à son art dont un four performant et quatre cents sortes de verres différents qui lui permettent de jouer savamment avec la lumière, la transparence et le reflet, en peinture sur verre, fusing et vitrail au plomb.

« Avec le verre, on peut tout faire ! » dit Dominique. Et en effet, des dessins sur surfaces planes aux réalisations en relief, les pièces uniques de Dominique sont empreintes de délicatesse.

Elle satisfait les demandes de ses clients chez lesquels elle se rend pour se nourrir de leur imaginaire et leur proposer une solution décorative, véritable composition detechniques et de matières, solution idéale pour créer une ambiance personnalisée. « Un véritable défi ! » que Dominique relève bien volontiers !
Leave a review about Exposition De Luminescence Vitraux :
Horrible

Bad

Average

Good

Excellent
There is no review about Exposition De Luminescence Vitraux, be the first to leave one !