Exposition de peinture avec Régine Bertin Bisson.
Exhibition , Cultural , Painting , Sculpture at Carennac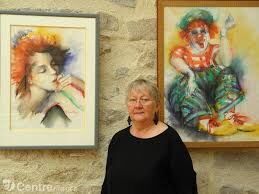 Cette artiste, multitalentueuse, expose à Carennac. Graveur, peintre, aquarelliste, pastelliste, Régine Bertin Bisson, après des études artistiques à Paris, assure 14 ans de création en studio (Publicité-Illustration-Edition). Arts décos et Beaux-arts l'incitent à la peinture, où les techniques de l'acrylique, du pastel et de l'aquarelle lui deviennent familières et grâce auxquelles elle peut transposer habilement, avec délicatesse, ses sentiments perçus avec les modèles, approcher sur la toile l'émotion d'un portrait, la sensualité d'un corps, la beauté d'un paysage. Il y a environ huit ans, à l'occasion de la vente d'une toile, l'acheteuse, étant graveur, lui donne l'occasion d'aborder cet art si minutieux, si difficile ; recolorer les noirs devient sa quête, d'une technique qu'elle maîtrise maintenant parfaitement : recherche des détails dans le noir, aquateinte, multiplication des bains de la gravure, une école de la patience que l'on retrouve dans toutes ses oeuvres exposées, « les coqs », primés lors d'un concours reflétant parfaitement cette maîtrise d'une technique au bord de la perfection.

Une exposition étonnante, un mélange abouti de coups de coeur et de recherche de l'émotion.
Leave a review about Exposition De Peinture Avec Régine Bertin Bisson. :
Horrible

Bad

Average

Good

Excellent
There is no review about Exposition De Peinture Avec Régine Bertin Bisson., be the first to leave one !