10ème Festival de Théâtre Amateur en Nord du Lot "Illusions"
Local event , Theatre , Cultural , Comedy at Gramat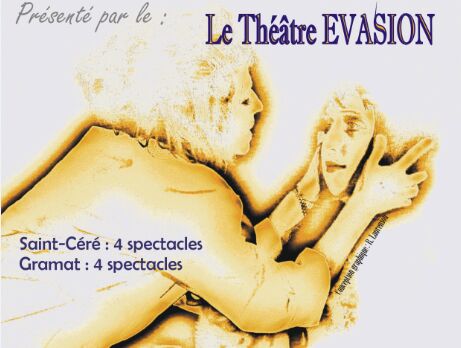 Festival de Théâtre amateur présenté par le Théâtre Evasion à Saint-Céré (4 spectacles ) et Gramat (4 spectacles).

Illusions d'Ivan VIRIPAEV
Comédie Dramatique par la compagnie Rhinocéros de Paris (75)
Durée : 1h45
Mise en scène : Jordan MUNOZ
Synopsis : Deux amis. Deux couples. Quatre expériences du sentiment amoureux. Quatre discours sur le sentiment amoureux. L'amour opiniâtre et responsable où l'on bâtit, difficilement, pierre après pierre, l'oubli de soi. L'amour impossible, douloureux, secret, la dévotion silencieuse, la frustration et le doute. L'amour irréfléchi, propre aux personnalités les plus tendres, celles qui se coulent docilement dans l'existence, sans éclaboussure. Et l'amour dans son plus simple appareil, sans les vêtements de l'idéologie, humble et fragile. Quatre visions de l'amour qui occupent quatre vies.
Et pour les raconter, quatre narrateurs perturbants. Qui arrivent, parlent, puis repartent sans autre forme de procès. Qui ne donnent pas d'explication et montrent peu d'égards pour le public. Qui tendent maladroitement de reproduire les codes du théâtre et desquels se dégagent finalement une certaine étrangeté. Qui servent l'histoire avec leur logique propre, impénétrable, et qui nous interroge sur le sens de la vie.
4 Comédiens
Leave a review about 10Ème Festival De Théâtre Amateur En Nord Du Lot "illusions" :
Horrible

Bad

Average

Good

Excellent
There is no review about 10Ème Festival De Théâtre Amateur En Nord Du Lot "illusions", be the first to leave one !