Biez Bat - Choeur Basque / Festival Les Musicales du Causse
Concert , Cultural , Music at Gramat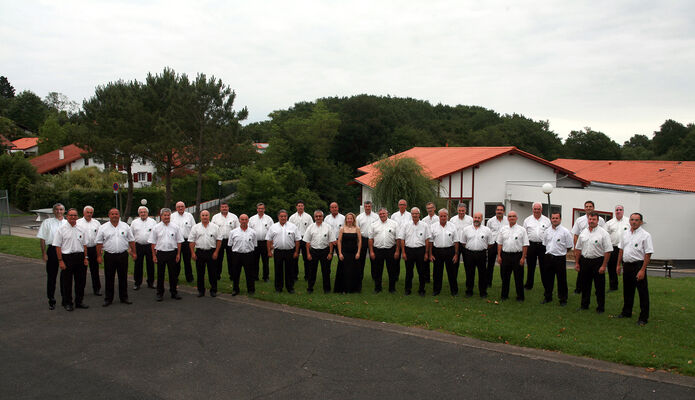 Le choeur d'hommes BIEZ BAT a été créé en 1976 et compte aujourd'hui
34 choristes chantant a cappella et répartis en quatre pupitres (1ers et 2èmes
ténors, barytons et basses). Il est placé sous la direction de son chef de
choeur Maïté DUBOUE-DAGUERRE, la première femme à diriger un choeur
d'hommes au pays basque.
Le répertoire classique des choeurs d'hommes en pays basque est abordé,
mais également des compositions plus modernes issues des concours
de compositions pour choeurs d'hommes « Kanta Berri » auxquels Biez
Bat à participé en compagnie des meilleures formations du Pays Basque.
Quelques oeuvres apprises à l'occasion de concerts communs donnés avec
d'autres choeurs en France ou à l'étranger figurent aussi à son répertoire.
Le choeur d'hommes BIEZ BAT vous propose, à travers ses chants, un
voyage initiatique de sa région et de contrées plus lointaines. Le Pays
Basque est une terre d'hommes de caractère, bordée par l'océan et les
Pyrénées au passé fortement influencé par ces éléments.
Pimenté par la brillance de ses solistes, ce programme vous sera servi
par les voix basques, au timbre si particulier, qui savent allier tour à tour,
douceur et puissance, fermeté et émotion.
Biez Bat est un choeur authentique, représentatif de la tradition ancestrale
des choeurs basques à voix d'hommes.
Leave a review about Biez Bat - Choeur Basque / Festival Les Musicales Du Causse :
Horrible

Bad

Average

Good

Excellent
There is no review about Biez Bat - Choeur Basque / Festival Les Musicales Du Causse, be the first to leave one !