Blond, Blond, Blond Homaj à la chonson française...
Concert , Cultural , Music at Saint-Céré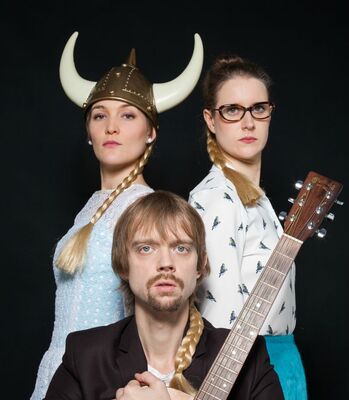 OUVERTURE DU THÉÂTRE
Trois chanteurs comédiens venus de Scandinavie proposent un hommage déjanté à la chanson française. T Ø, MÅr et Glär ont quitté leur Scandinavie natale pour mieux découvrir la culture française qui les passionnent depuis leur enfance quand ils écoutaient religieusement Radio Nostalgie. Leur spectacle rend justement hommage aux chansons du répertoire, revues et corrigées, aux interprétations déjantées provoquant l'hilarité générale : ici Gainsbourg anime des soirées anti-tabac, Barbara chante pour les petits enfants et la Compagnie Créole fait du théâtre contemporain… Chanteurs et musiciens exceptionnels, ces frères et sœurs en exil sont également de brillants comédiens qui partagent en toute liberté leur vision décalée de la France.

Un coup d'oeil sur leur site internet délirant!

Et un aperçu de leur musique !

Presse

Derrière les tenues rétros et les coiffures tirées à quatre épingles des chanteuse Mar et Glar, se cachent des comédiennes qui utilisent à merveille le ridicule et le cynisme. Quant à To le guitariste, il excelle dans le récit d'histoires absurdes. Blond, Blond, Blond c'est trois doses d'imagination et d'irrévérence. Ce récital original entrecoupé de poèmes insensés, est un ovni bienvenu dans le paysage humoristique.

Sandrine Blanchard – le Monde, juillet 2014

Quand trois Suédois fascinés par la France depuis leur plus jeune âge décident de rendre hommage à l'Hexagone en musique et avec humour, cela donne un trio détonant, qui détourne les tubes de Village People en chantant YMCA en français, mais également ceux d'Ophélie Winter ou Desireless.

F del V. – Point de vue, mai 2014

Ces rengaines plus qu'usées, « Dieu m'a donné la foi », « Au bal masqué », « À la queue leu leu », sont retournés comme de vieilles chaussettes, pour des reprises d'une modernité absolument hilarante (…) Allez-y, c'est tout blond !

A.A. – Le Canard Enchaîné, 30 avril 2014

Savoureux et pétillant… Ça déménage, on ne s'ennuie pas un instant.

Françoise Germain-Robin - L'Humanité, 19 février 2013
Leave a review about Blond, Blond, Blond Homaj À La Chonson Française... :
Horrible

Bad

Average

Good

Excellent
There is no review about Blond, Blond, Blond Homaj À La Chonson Française..., be the first to leave one !