"CHAMUYO, Tango contemporain" - Concert du Festival "Ecoute Voir la Dordogne"
Festival , Cultural , Classical music at Argentat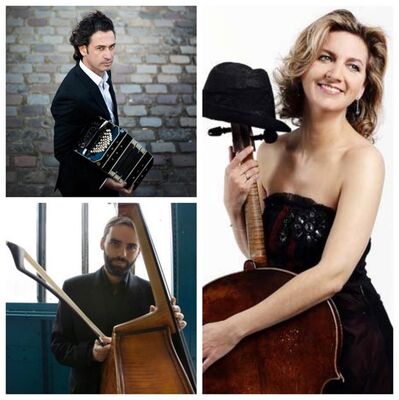 © Ecoute voir la Dordogne
« Chamuyo », en argot argentin, fait référence au fait de séduire, d'« embobiner » gentiment avec de beaux discours. Quoi de plus actuel et de plus répandu que cette pratique. Avec une ironie stupéfiante, le Cuarteto Mosalini-Teruggi présente sous ces augures ce que ses musiciens appellent eux-mêmes leur « deuxième répertoire ». Loin de représenter une musique simplement séduisante, traditionnelle et conformiste, le programme « Chamuyo » nous emmène au contraire dans une suite de contes personnels où chacun des deux compositeurs nous fait découvrir une vision actuelle de la musique chargée de leur imaginaire multiculturel et de leur regard singulier sur le monde. Le Cuarteto a désormais trouvé une unité musicale inédite. Le ton et le geste sont désormais assurés, la cohésion parfaite pour nous emmener vers une nouvelle aventure où le seul tango traditionnel n'est plus à l'ordre du jour. Il se transforme et évolue, s'imprégnant d'autres formes musicales latines. On trouve dans ce programme un équilibre délicat de compositions virtuoses et d'autres pièces menées jusqu'au dépouillement expressif total (« Code 18 », « Era de esperar », « Candombe Blanco »). S'alternent rythmes sudaméricains revisités, pièces expérimentales qui explorent des matières sonores et des accentuations « tangueras » nouvelles (« Cuentos graves », « Chamuyo ») ou encore pièces nettement plus éthérées (« Mar y Sol », « 777 »). « La force de nos racines, les couleurs, les accents, les contrastes expressifs et rythmiques se distillent tout au long de notre répertoire. Argentins mais résolument cosmopolites, les sentiers que nous arpentons sont la source inépuisable de notre inspiration. », expliquent les musiciens. Loin de la pratique traditionnelle de l'imitation et de la reprise, le Cuarteto Mosalini-Teruggi démontre dans ce nouvel opus un répertoire véritablement surpassé. La liberté en action a toujours quelque chose de flamboyant. Avec le programme « Chamuyo », l'ardeur est irrésistiblement communicative. Ce n'est plus simplement du tango, c'est un nouveau genre à part entière.

(durée 1h15 sans entracte)
Après le concert : collation et rencontre avec les artistes organisées à la sortie de la salle socio culturelle d'Argentat.
Leave a review about "chamuyo, Tango Contemporain" - Concert Du Festival "ecoute Voir La Dordogne" :
Horrible

Bad

Average

Good

Excellent
There is no review about "chamuyo, Tango Contemporain" - Concert Du Festival "ecoute Voir La Dordogne", be the first to leave one !