Concert de L'Orchestre du Capitole
Concert , Cultural , Classical music at Saint-Céré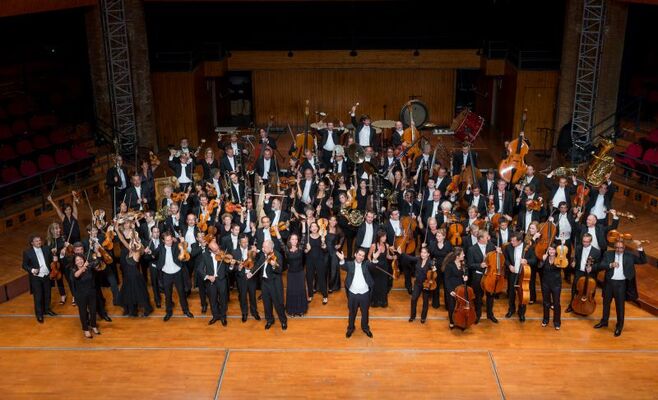 L'Orchestre du Capitole viendra inaugurer le nouveau théâtre de l'Usine avec deux compositeurs majeurs : Beethoven et Ravel.
Chef d'orchestre : Gustavo Gimeno

Programme :
Beethoven ; Symphonie n°3 "Héroïque" en mi bémol majeur, op. 55
Ravel ; Ma Mère l'Oye, Suite pour orchestre

La Symphonie n° 3 en mi bémol majeur, est l'une des plus belles et des plus grandes de l'histoire. Achevée à Vienne en 1804, c'est une œuvre révolutionnaire pour l'époque, considérée par la postérité comme un tournant décisif dans l'histoire de la musique. Sa légende s'est forgée autour de ses dimensions monumentales, jamais atteintes auparavant, et de sa célèbre dédicace : tout d'abord sous-titrée « Bonaparte » en l'honneur du libérateur de l'Europe, l'œuvre fut renommée « Symphonie héroïque » par le compositeur, aux yeux duquel le sacre de Napoléon bafouait l'utopie révolutionnaire.
 L'idéalisme de Beethoven ouvrait la voie à la symphonie romantique.

Maurice Ravel s'est inspiré des contes de Charles Perrault pour composer Ma mère l'Oye. La suite pour orchestre est composée de cinq pièces :
- Pavane de la Belle au Bois Dormant (Lent - allegro - mouvement de valse modéré)
- Petit Poucet (Très modéré)
- Laideronette, Impératrice des Pagodes (Mouvement de marche - allegro - très modéré)
- Les Entretiens de la Belle et la Bête (Mouvement de valse modéré)
- Le Jardin féerique (lent et grave)


Gustavo Gimeno
Après des débuts sensationnels aux côtés de l'Orchestre Royal du Concertgebouw/ Amsterdam il ne faisait aucun doute qu'un grand talent de la direction d'orchestre avait été révélé. En un rien de temps, le charismatique Espagnol Gustavo Gimeno a été contacté par les plus prestigieux orchestres du monde entier. Au printemps 2014, Gustavo Gimeno a été nommé Directeur Musical de l'Orchestre Philharmonique du Luxembourg dont il prendra la tête à compter de la saison 2015/16.
Leave a review about Concert De L'orchestre Du Capitole :
Horrible

Bad

Average

Good

Excellent
There is no review about Concert De L'orchestre Du Capitole, be the first to leave one !