De quelle couleur est le vent?
Show , Cultural , Dance , Children , Family at Saint-Céré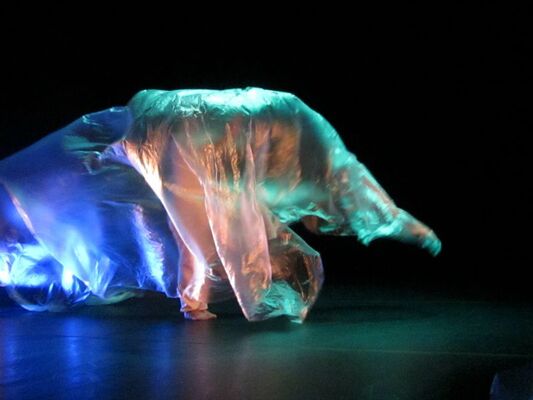 Tout public, à partir de 4 ans. Spectacle inspiré de l'album de littérature jeunesse "De quelle couleur est le vent?" d'Anne Herbauts
De quelle couleur est le vent ? c'est la question posée un jour par un petit garçon aveugle à un adulte, Anne Herbauts. C'est avec un album dessiné qu'elle cherchera une réponse. La pluie, les abeilles, le loup, le chien, la montagne, l'arbre, chacun répond à l'enfant à sa manière…

De quelle couleur est le vent ? fait surgir des danses nées de l'imaginaire, des sensations inspirées du contact avec les éléments : air avant tout, souffle, mais aussi eau, terre, soleil… Laurence Pagès propose une danse qui ne serait pas seulement à voir, mais aussi et surtout à entendre, à percevoir, à ressentir. Une danse à saisir avec tous ses sens.

Un spectacle en six tableaux

Le spectacle est construit en six tableaux, inspirés de quelques pages, sélectionnées dans l'album pour leur puissance évocatrice et sensorielle, pour le mouvement sous-jacent que l'on peut sentir niché au creux du dessin, ou encore pour les possibilités de transposition dans la mise en scène qu'évoque l'illustration. Une danse d'éveil, inspirée de l'eau bouillonnante, émergeant du sol parmi les cafetières bruissantes.
Une danse marron : une danse de la terre sur la bâche, une danse du loup, rugueuse et mordante. Des jaillissements, des changements abrupts....
Une danse bleue, une danse d'air sous la bâche, celle de la montagne avec les ventilateurs, 

faite 

de flottement, d'instabilité et 

de 

déséquilibre... Une danse multicolore, dans les 

rideaux 

flottants 

au vent, 

dans un jeu 

de cache-cache derrière les calicots. Une danse en spirales pour s'effacer puis donner à voir des morceaux de corps....
Une danse de la pluie, danse d'un autre bleu, dans un décor de gouttes d'eau, que les enfants pourront ensuite toucher durant le parcours sensoriel.
Une danse du soleil, d'une peau dorée sensible à la lumière, à la chaleur et au bourdonnement léger des abeilles.

Tout public à partir de 4 ans
Durée 50 minutes
Des séances scolaires seront proposées dans les écoles de Saint-Céré, Loubressac, Miers, Sousceyrac, Aynac et Leyme

Distribution

Chorégraphe et interprête : Laurence Pagès
Création Sonore : Pascale Tardif
Lumières : Flore Dupont
Installation plastique : Anne Bathazard
Production Compagnie du Petit Côté,
Coproduction Maison des Arts et Loisirs/Ville de Laon, avec le soutien de la Communauté de communes de Cazals et l'Adda du Lot
Leave a review about De Quelle Couleur Est Le Vent? :
Horrible

Bad

Average

Good

Excellent
There is no review about De Quelle Couleur Est Le Vent?, be the first to leave one !