Didier Labbé Quartet Écho à Abdullah Ibrahim
Concert , Cultural , Jazz and blues at Souillac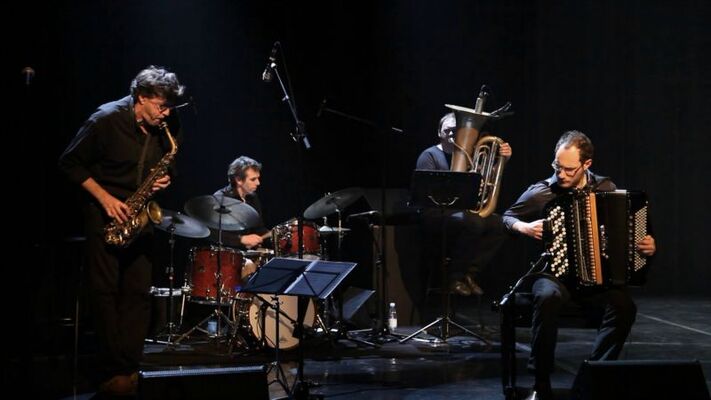 Le Didier Quartet propose un bel hommage à une icône du jazz : Abdullah Ibrahim
Didier Labbé a réuni son quartet pour une création «en écho» à la musique du grand compositeur et pianiste sud-africain Dollar Brand, plus connu sous le nom d'Abdullah Ibrahim. Figure liée à la lutte contre l'apartheid et à l'histoire de la musique noire, Abdullah Ibrahim puise son inspiratition dans les multiples identités de son pays. Sa musique reflète la complexité identitaire de son pays, à travers la richesse et la diversité empruntées aux chants Malay du Cap, à la musique traditionnelle africaine, aux succès populaires de l'époque, à la musique de carnaval, aux standards de jazz afro-américain et aux musiques religieuses. S'inspirant pour cette création des mélodies et des rythmes très festifs, mais aussi de la dimension sacrée qui traverse les thèmes du grand compositeur sud-africain Dollar Brand/Abdullah Ibrahim, Didier Labbé propose un répertoire de compositions personnelles et de reprises, mariant l'art de la nuance et une fougue presque sauvage...

Les thèmes se succèdent tantôt festifs, tantôt plus abstraits qui emmènent ce programme au-delà d'une rencontre entre world-music et free jazz.

Didier Labbé Quartet

Créé en 1996 à Toulouse, le Didier Labbé Quartet est né de la rencontre entre musiciens venus d'horizons divers (jazz, classique, rock, tard), unis par une même passion pour les musiques méditérrannéennes. Autour du compositeur et saxophoniste Didier Labbé, le quarter explore tour à tour des arrangements traditionnels, des reprises de jazzmen comme Bojan Z ou Brad Shepik, mais surtout des compositions originales qui puisent dans les nombreux vocabulaires de la Grande Bleue. Le groupe s'est ainsi créé tout un folklore imaginaire, s'inspirant des musiques d'Italie, de Palestine, du Maghreb, de Grèce, de Bosnie, d'Espagne, d'Israël, de Macédoine, Turquie, … Le quartet aime se mettre aux services d'autres arts du spectacle, notamment le théâtre et la danse. En 1999, il a créé la musique du spectacle "Casimir et Caroline", produit par le Théâtre National de Toulouse et mis en scène par Jacques Nichet.

Extraits musicaux

Le château de sable

Did you hear that song ?

Le Cap

Pas cap

Presse

Didier Labbé est un chimiste musical et aventurier des sons que rien n'arrête. Mondomix

Toute résistance est inutile. On touche ici au meilleur du world jazz. Jazzman

Animée par les lignes dansantes de Laurent Guitton, dont il faut saluer l'habilieté à surmonter la pesanteur naturelle d'un instrument comme le tuba, autant que les contrepoints volontiers dissonants de l'accordéoniste Grégory Daltin, cette musique rappelle à bien des égards le foisonnement d'une fanfare. Nul doute que cette densité provienne également des thèmes eux-mêmes, tantôt festins ou plus abstraits, exposés par le saxophoniste avec une fougue presque sauvage. Heureusement, la présence d'épisodes plus atmosphériques (le château de sable), ou l'usage ponctuel de la flûte traversière (Il me tarde), lui permettent d'emmener son programme au-delà d'une simple rencontre entre world music et free jazz. Jonathan Glusman, jazz magazine, 2011

Distribution

saxophone, flûte : Didier Labbé
accordéon : Grégory Daltin
tuba : Laurent Guitton
batterie : Alain Laspeyres
En partenariat avec jazz à Souillac

Production Cie Messieurs Mesdames, conventionnée par la Région Midi-Pyrénées, avec le soutien de la DRAC Midi-Pyrénées, de la Ville de Toulouse, de Toulouse Métropole et du Conseil Départemental de la Haute-Garonne.
Coproduction Théâtre Garonne/Rio Loco, Projet labellisé dans le cadre des Saisons Croisées France/Afrique du Sud en 2012 et 2013.

Coproduction Millau en Jazz, la Cave Poésie à Toulouse, avec le soutien de la Région Midi-Pyrénées dans le cadre du dispositif Résidence-Association.
Leave a review about Didier Labbé Quartet Écho À Abdullah Ibrahim :
Horrible

Bad

Average

Good

Excellent
There is no review about Didier Labbé Quartet Écho À Abdullah Ibrahim, be the first to leave one !