Festival Paille et Folklore
Festival , Festival , Cultural , Traditions and folklore , Handicrafts , Cinema , Dance , Gastronomy , Historic , Folk music (country) , Heritage at Lanteuil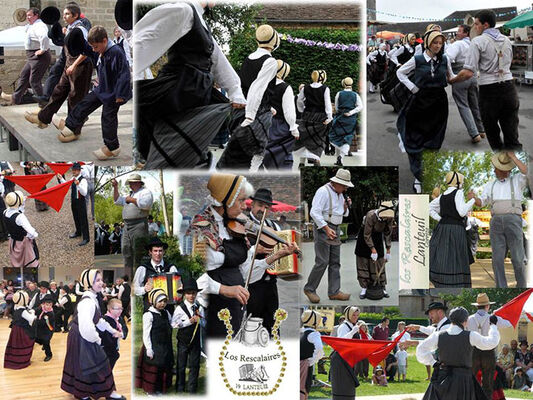 Mairie de Lanteuil
Danses traditionnelles avec groupes folkloriques représentant des régions différentes, démonstrations artisanales diverses...

23 juillet : Soirée Bal et Tradition
Consacrée au patrimoine : présentation des vidéos de l'Institut d'Etude Occitane Del tesson a la gogua (tourné à Albignac). Film sur la culture du seigle et journée de préparation du cochon.
Dégustation de boudins, démonstration de tressage et montage du cabas de Beynat.
Danses traditionnelles : bal gratuit (musiques normandes et limousines), avec Blaudes et Coëffes de Caen.
Buvette, gâteaux.

24 juillet : Festival de Folklore
10h30 : spectacle folklorique. Artisanat, marché de producteurs locaux.
11h15 : défilé des groupes et des confréries.
11h45 : réception officielle. Apéritif.
Repas : assiette gourmande, sauté de veau, millassou (6 €), par la confrérie farcidures et millassous, traiteur et restaurateurs locaux.
Entréen fromage, fruits proposés par les producteurs du Cabas Paysan.
14h : spectacles folkloriques, démonstrations artisanales par les Compagnons du Roseau, travail de la paille (cabas, chapeaux)
19h : clôture du festival.
Repas grillade dansant, réservation sur place.
Leave a review about Festival Paille Et Folklore :
Horrible

Bad

Average

Good

Excellent
There is no review about Festival Paille Et Folklore, be the first to leave one !