Itinéraires Bis / Spectacle : Pierre et Léa
Show , Cultural , Dance , Children , Family , The Causseries , Literature at Alvignac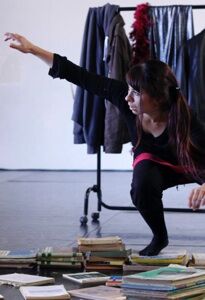 Dans le cadre de la saison culturelle itinérante Itinéraires Bis 2015-2016,Le Parc naturel régional et le Pays Bourian vous propose un spectacle de lectures dansées.
Tout public à partir de 6 ans
45 min avec les Compagnies Divergences et Les Voix du Caméléon.
En partenariat avec Quinze Donadieu.

Tous les garçons et les filles de l'âge de Pierre et Léa ne vivent pas ça. Et pour cause. Connaître en une seule journée, comme dans un souffle, une rencontre, une phase de séduction, une cérémonie de mariage, un premier enfant, une tentative de suicide et un divorce à seulement dix ans !
Voyage poétique à l'intérieur des textes des deux auteurs, cette création est un objet hybride : ni théâtre ni danse, ni totalement décousue ni narrative, mais quelque part entre tout ça, dans cet espace entre l'enfance et l'âge adulte, là où se confrontent les rêves et la réalité...
A travers quelques fragments, piochés ça et là, sans pour autant chercher une continuité narrative, trouver néanmoins une cohérence. Avec Ouasmok de Sylvain Levey comme «fil rouge», les rendez-vous réguliers que se donnent Pierre et Léa ponctuent notre proposition. Les personnages se désincarnent, digressent vers d'autres textes, prennent des chemins de traverse, des raccourcis.
L'intention des textes, les énergies contenues, les rythmes qui les sous tendent, déclenchent des mouvements de corps ; la danse prend son envol, sa place, développe son propre langage, débute une séquence, la termine, illustre de temps à autre...
Leave a review about Itinéraires Bis / Spectacle : Pierre Et Léa :
Horrible

Bad

Average

Good

Excellent
There is no review about Itinéraires Bis / Spectacle : Pierre Et Léa, be the first to leave one !