Jacques Schwarz-Bart & Omar Sosa - Souillac en Jazz
Festival , Cultural , Jazz and blues at Souillac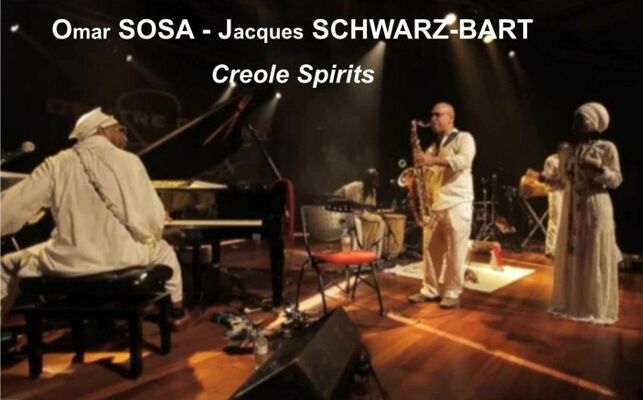 Ce festival s'articule autour de 2 principes : toucher un public qui n'est pas forcément connaisseur et proposer des musiques et musiciens inhabituels. Exigeant, ce festival sort des sentiers battus et devant l'abbaye romane, le public se réjouit de nuits musicales originales. Situé en milieu rural, le festival Sim Copans s'inscrit dans une logique de développement et mise en valeur du patrimoine.

Omar Sosa et Jacques Schwarz‐Bart ont depuis plus de dix ans, chacun de leur côté, porté haut et fort les couleurs du jazz afro‐caribéen à travers le monde.
Le pianiste Omar Sosa est aujourd'hui le leader incontesté d'un jazz cubain inspiré par les traditions spirituelles de la Santeria, ce rituel africain hérité du temps de l'esclavage qui a permis au peuple déporté de résister à l'oppression.
Le saxophoniste Jacques Schwarz‐Bart de son côté, après avoir emmené les tambours gwoka‐jazz sur les scènes du monde, est devenu l'ambassadeur du jazz vaudou suite à son dernier opus « Jazz Racine Haïti ».
Ces deux musiciens, défenseurs acharnés d'une créolité universelle, ont maintes fois envisagé de créer ensemble une rencontre symbiotique des musiques spirituelles de Cuba et Haïti dans l'écrin du jazz moderne.

Omar Sosa p
Jacques Schwarz-Bart ts
Martha Galarraga voc
Moonlight Benjamin voc
Gustavo Ovalles perc
Claude Saturne perc


http://www.oleofilms.fr/?p=2806


« La musique sacrée est le seul Héritage que les esclaves ont conservé à travers le périple de la traite négrière. Cette musique a maintenu un dialogue invisible entre l'Afrique et ses diasporas, qui ne s'est jamais interrompu. Le résultat est une symbiose riche en contraste, qui passe du chant lyrique de prières contemplatives, à des chants de transe explorant une large palette d'intensité. L'interaction est constante, soutenue par une grande richesse harmonique et mélodique qui propulse des envolées puissantes de la part des deux leaders ».
Leave a review about Jacques Schwarz-Bart & Omar Sosa - Souillac En Jazz :
Horrible

Bad

Average

Good

Excellent
There is no review about Jacques Schwarz-Bart & Omar Sosa - Souillac En Jazz, be the first to leave one !