Le marais prend de la hauteur
Workshop , Encounters , Children , Family , The Causseries , Sports and recreation , Cultural at Mayrinhac-Lentour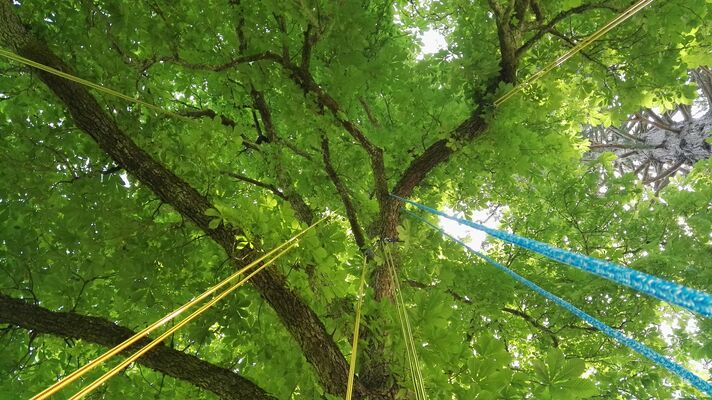 Après les balade-spectacle en 2015 et 2016, est-ce pour le
marais de Bonnefont une autre façon de sortir de sa réserve ?
Toujours est-il qu'il a décidé de prendre de la hauteur…

Peut-être pas au point que le modeste monticule dit «Mont Pouget» se voit soudain couronné de neiges éternelles ! Mais encerclé et assailli par toutes sortes d'interventions éphémères et surprenantes, ça oui. Acrobatiques, clownesques, poétiques ou musicales, elles investiront un espace déjà chargé de mystère. Elles seront dansées ou contées, chantées ou gesticulées, chuchotées ou...
Nous n'en dirons pas davantage : surprise oblige ! Et ceux qui tiennent à savoir de quoi il s'agit devront se rendre au marais de Bonnefont où les attendront des personnages bizarres, facétieux, mélancoliques, drolatiques, émouvants, aériens... Des drôles d'oiseaux, en somme, qui leur proposeront de s'envoyer dans les airs avec eux ! En tout bien tout honneur. Et en toute bonne humeur.
Bref, voilà une occasion de découvrir le marais, dans une perspective insolite, en compagnie des Effilochés, d'Au fil des cimes, de Paroles de geste, du Foyer Marthe Robin, d'Isabelle Machado, de Valérie Mazeyrie, de Sébastien Birou, des animatrices de la Réserve et des bénévoles de l'Association Patrimoine et Culture de Mayrinhac-Lentour.
Leave a review about Le Marais Prend De La Hauteur :
Horrible

Bad

Average

Good

Excellent
There is no review about Le Marais Prend De La Hauteur, be the first to leave one !