Les Sciences au Cinéma
Local event , Cinema , Historic , Cultural at Gramat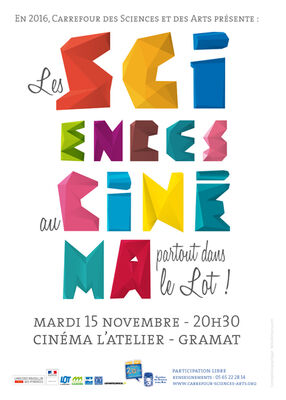 La Soirée propose, une sélection de très courts métrages, ludiques et dynamiques, produits par le CNRS, Universciences.TV, des universités, l'INRAP sur diverses thématiques :
la lumière, la santé, l'environnement, les acteurs de la recherche, les inventions et bien plus encore !

Au coeur de cette soirée également, la projection événement du documentaire Pourquoi les femmes sont-elles plus petites que les hommes ? De Véronique Kleiner, POINT DU JOUR, ARTE France, CNRS IMAGES, PICTA , CNDP.

Synopsis du documentaire :
Partout dans le monde, les femmes sont en moyenne plus petites que les hommes. Même chez les Européens du Nord, qui sont actuellement les plus grands du monde, leur taille est inférieure à celle des hommes d'une quinzaine de centimètres environ. Le dimorphisme sexuel de taille, comme l'appellent les scientifiques, n'est cependant pas universel. Il y a des espèces animales où les femelles sont plus grandes que les mâles - les baleines bleues, par
exemple. Si le plus grand mammifère au monde est une femelle, pourquoi en va-t-il autrement chez les humains ?
Les spécialistes de la question nous racontent une histoire inédite, au carrefour de la biologie, de la médecine, de la paléoanthropologie et de la sociologie. Ces experts travaillant
en France, au Royaume-Uni, en Italie, en Allemagne et aux États-Unis retracent leurs découvertes sur l'évolution.
Ces projections proposent une vision différente des sciences en
présentant des thématiques inédites de manière ludique et originale !

La soirée sera animée par un membre de l'association Carrefour des Sciences et des Arts. Les projections seront suivies d'une collation pour partager un moment de convivialité et
échanger sur les films.
Leave a review about Les Sciences Au Cinéma :
Horrible

Bad

Average

Good

Excellent
There is no review about Les Sciences Au Cinéma, be the first to leave one !