Spectacle Raya & Choko
Show , Cultural , Children , Family at Meyssac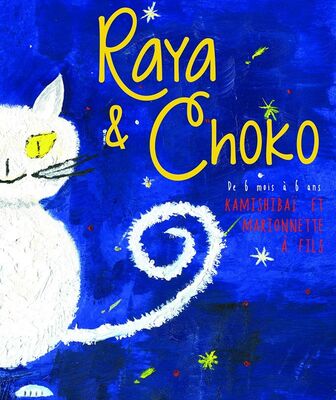 ©Ptitsboutsetcie
Spectacle Raya & Choko de la Compagnie P'tits Bouts Et Cie est organisé par l'association L'escargot et le papillon.
Il s'adresse aux enfants, aux tout-petits jusqu'à 6 ans. Durée 20 minutes.


Raya est un beau gros chat, les enfants sont tous ses amis. Il y a aussi Choko. Tous deux jouent à cache-cache dans la maison.
Mais un jour, Choko disparaît : où est-elle passée ?
La petite chatte nous réserve bien des surprises…
Les images défilent les unes après les autres et résonne l'histoire de la vie…

Raya & Choko a souvent captivé les petits… et séduit les plus grands, surpris par l'attention et l'éveil de leurs enfants durant le spectacle.

A l'occasion de ce spectacle Valérie la conteuse présentera le livre 'Choko joue à cache cache' (en vente à la sortie du spectacle).
Leave a review about Spectacle Raya & Choko :
Horrible

Bad

Average

Good

Excellent
There is no review about Spectacle Raya & Choko, be the first to leave one !