Stage "GuitarGroove"
Cultural , Music at Hautefage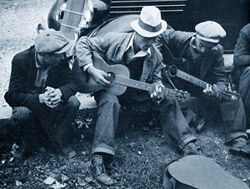 Stage acoustique du Blues au Bluegrass

RÉSERVATION
Pour réserver votre place pour l'édition 2017 de ce stage, merci de remplir le formulaire de réservation en ligne et de suivre les instructions.

LA FORMULE
• Pension complète
• Hébergement en chambre de 2 à 6 lits ou en camping
• Petits-déjeuners et repas collectifs

CONTENU
Principe
S'initier ou se confirmer dans la guitare acoustique unplugged et dans d'autres instruments (harmonica, mandoline, banjo, basse acoustique…).

Travailler des harmonies vocales
Se constituer un répertoire

Style de musique
Blues, Bluegrass, Folk, et Country

Organisation
Matin : Échauffement, exercices rythmiques, étude d'un morceau.
Après-midi : Répétition du morceau, par petits groupes.
Soir : Apéro-concerts et jam-sessions, donnant la possibilité à toute personne qui le désire, de jouer en solo ou en formation devant un public.
Tout au long de la semaine : Ateliers sur la théorie et les techniques propres à chaque style (fingerpicking traditionnel, flatpicking du bluegrass, open tunings, slide, etc…).

Concert de fin de stage le vendredi soir
Leave a review about Stage "guitargroove" :
Horrible

Bad

Average

Good

Excellent
There is no review about Stage "guitargroove", be the first to leave one !